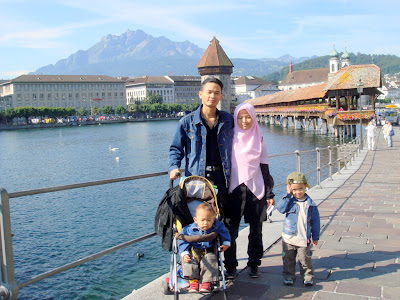 Memori di Luzern, Switzerland.. cantik tempat nie.. takleh nak lupe...
ha.. nila keje nya...
Peraturannya@Rules
1. Link to your tagger and post these rules on your blog.
2. Share 7 facts about yourself on your blog, some random, some weird.
3. Tag 7 people at the end of your post by leaving their names as well as links to their blogs.
4. Let them know they are tagged by leaving a comment on their blog7 facts about me ;)


jommm layannn... -
1. suka melancong & melencong... muahaha..
2. kuat cemburu.. kdg2 cemburu yang tak kena tempat..(bahye nie..)
3. Friendly jugak & mudah jatuh hati..(agaknye..) hehee
4. tekun & sangat peyayang.. tapi kuat marah gak ..
5. suka makan askrim & kek coklat..yummy..
6. suka kacau orang..
7. dah berkahwin, ade dua orang anak lelaki... yang ketiga,insya allah..akan datang hujung tahun nie.. amenn... ;c)
I would like to pass this tag to :
1. ummuwafi - Malaysia
2. kak kin - Ireland
3. Kak sid - Malaysia
4. Ina - Durham
5.Zue - Malaysia
6.Kak Gee - Coventry
7.Kak finie - Billingham
* Terpaksalah TAG juga sebab dah aturan mainnya macam tu :) kan.. kan... heheheee
p/s : gamba kak dayang soh letak.. tp gamba ngan mak ayah leni xder.. 5 beranak je pun jadilah yer kak...;p